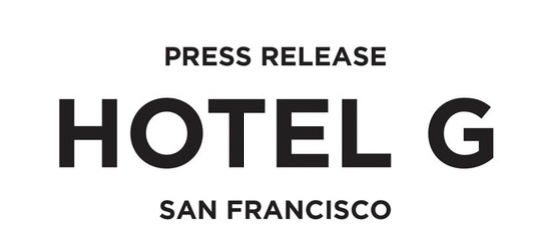 SAN FRANCISCO, CA (OCTOBER 5, 2018) – Hotel G, San Francisco's boutique lifestyle hotel, proudly announces the grand opening of Ayala restaurant this November. Located in the heart of Union Square and just steps away from the city's best entertainment, art, and fashion, Hotel G will now be home to this highly-anticipated neighborhood eatery serving the finest seafood in San Francisco.
"Hotel G is very excited to welcome Ayala to the culinary scene in Union Square," says Hotel G General Manager Steve Rizzo. "It is going to be a big hit with locals and visitors, and will bring a fresh and inspiring new dining option to the area."
Under the  direction of Chef Partner Bill Montagne, a former sous chef at Le Bernardin and most recently the Executive Chef at Chicago's Nico Osteria, and Executive Chef Melissa Perfit, formerly Executive Chef of Bar Crudo in San Francisco, the 120-seat Ayala will feature dishes showcasing the bounty of Coastal California's oceans and markets. The family style menu offers a large selection of oysters and seasonal local crudos, plus an array of pastas and entrees that will satisfy both seafood and meat lovers.
The wine program, curated by Wine Director Nick Tilly and General Manager Essam Kardosh, will focus on wines that draw direct influence from the sea by proximity or soil composition. The menu will also celebrate the new generation of California winemakers specializing in heritage varietals and organic and natural viticulture. Overseen by acclaimed Bar Director Julian Cox, the farmers' market-driven bar program will incorporate traditional seafaring spirits like Navy Strength gin and rums, east India Sherry, port, and Madeira, as well as a small list of other spirits, sherry, and vermouth from boutique producers.
Featuring a contemporary Mediterranean-inspired design, diners will feel transported to a relaxing seaside town along the coastal regions of the west coast. White walls, soft arches, and round corners reflect the textures and colors found in and near the ocean. A major highlight of the space is the custom-built bar with a hand-carved marble top that is perfect for enjoying a selection of crudos or freshly shucked oysters while taking in a full view of the kitchen. The 1,400 square feet restaurant will feature three distinct dining areas: The Oysterette, The Dining Room, and The Raw Bar. Nestled in its own cloister is an intimate VIP table that accommodates up to seven guests. Adjacent to this space, separated by a small window, is a semi-private dining area with a 14-seat banquet table.
Ayala is located at 398 Geary Street, San Francisco, CA 94102. Dinner will be served nightly Monday – Thursday 5:30 p.m. -10 p.m. (happy hour 4:30-5:30 p.m.) and Friday – Sunday 5:30 p.m. – 10 p.m. (happy hour 4 p.m. -5:30 p.m.).
About Hotel G San Francisco
Hotel G is located at a vibrant intersection of San Francisco's entertainment, art, fashion, and culture. The 149 guestrooms, designed by Hun Aw, are a beautifully curated experience showcasing the original 1908 building structure accented by minimalist artisan furnishings and modern amenities. The European-inspired pied-à-terre penthouse level designed by Gulla Jónsdóttir features private terraces with city views and is ideal for a sophisticated getaway or exclusive gathering. Property amenities include seafood restaurant Ayala (opening November 2018), cocktail bar Benjamin Cooper, original artwork from local non-profit Creativity Explored, a Technogym fitness center, full-service meeting room, and 24-hour concierge service. Hotel G is located at 386 Geary Street, San Francisco, CA 94102. For additional information, visit www.hotelgsanfrancisco.com or call (877) 828-4478. Follow the hotel on Facebook, Instagram, and Twitter.
###